CHIPPING ONGAR BLOCK PAVING EXPERTS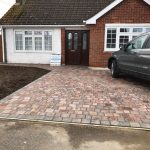 Vantage Drives and Patios are experienced block paving contractors for Chipping Ongar. We install all types of block paving including driveway paving, cobble stones and retro style block paving in Chipping Ongar, Essex.
We can extend existing block paving or replace your driveway paving with new block paving. All work covered by our written installation guarantee.
Experts At Driveway Installations in Chipping Ongar, Essex
Get a free quote today on installing driveway paving from your local, affordable paving contractor for Chipping Ongar. Quality workmanship at an affordable price. Approved paving specialists with hundreds of satisfied customers. Call our team to book a free no obligation quote.
We are block paving specialists covering the Chipping Ongar area in Essex. We have built our reputation upon delivering top quality workmanship to our clients backed up by our outstanding customer service skills. All our driveway paving installations are carried out by our own trained team to ensure a quality finish.
We are experts at driveway paving in Chipping Ongar, block paving and garden paving. Affordable new block paving installations or we can replace your old block paved area. We can add Aco drains, block paving steps, edging kerbs, dropped kerbs and custom designed paving patterns.
DRIVEWAY PAVING, BLOCK PAVING, GARDEN PAVING AND TEGULA PAVING EXPERTS
We provide a range of driveway paving installations along with other types of driveway surfacing options. All installed to industry standard with solid base and sub base foundations.
We will walk you through every step of the project up to the completion of it. By keeping our clients fully informed, we ensure that you get a block paving installation that you are 100% satisfied with. We can install multiple styles of paving borders and edgings including granite edging, standard concrete.
When you are unsure on the type of block paving you would like, the laying style or the colours, we can provide you with samples and tours of previous work to help you. Together, we will create a beautiful paving area that will be both functional and durable.
BUSINESS HOURS
You can use our quick contact form to book an appointment on-line or call the office during business hours: Call: 01245 526121
8.00am – 6.00pm   Monday
8.00am – 6.00pm   Tuesday
8.00am – 6.00pm   Wednesday
8.00am – 6.00pm   Thursday
8.00am – 6.00pm   Friday
8.00am – 6.00pm   Saturday
Closed on Sunday + Bank Holidays
Call our team today to book a free quotation on repairing, replacing or installing driveway paving in Chipping Ongar, Essex. Our team looks forward to hearing from you.