Driveway Contractors Chelmsford
Vantage Drives and Patios LTD provide unbeatable value for the installation of new driveways and patios throughout Chelmsford in Essex. From driveway paving to patio slabbing, no job too large or small.
GET A FREE ESTIMATE >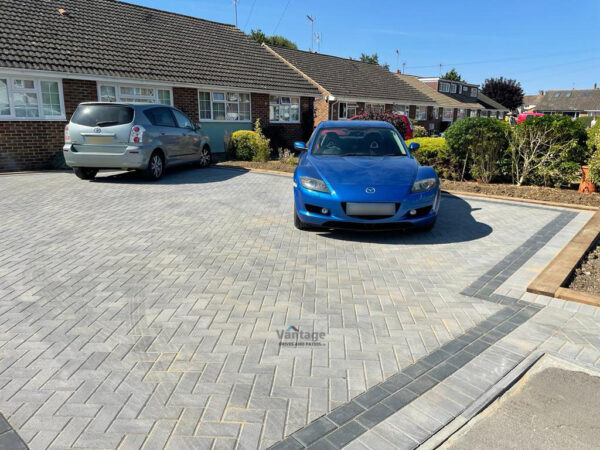 100%
SATISFACTION
GUARANTEED
Driveway Contractors Chelmsford
As driveway contractors in Chelmsford, our paving team specialise in installing new driveways and patios. Our team provides unbeatable value for installing block paving, asphalt driveways, porcelain patios, and limestone and sandstone patio installations.
From installing new base foundations to erecting walls, wooden fencing, and flowerbeds, we provide a comprehensive transformation service.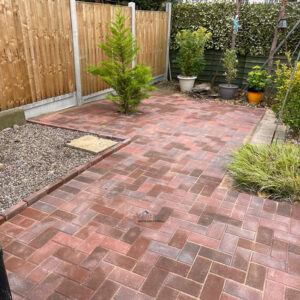 In addition to constructing driveways, we can transform your front garden into a functional driveway, expand your existing driveway for added parking space, and lower the front kerbing of your property to facilitate seamless access.
Each team member is trained to work professionally and to put the customer first. We believe in delivering 100% customer satisfaction which you can see we deliver when you view our reviews.
Experience the exceptional craftsmanship and attention to detail that sets us apart. Contact us today for your free custom design and quote, and let us create the perfect driveway or patio that will leave a lasting impression.
You can learn more by viewing the services provided by our patio contractors in Chelmsford and our paving contractors in Chelmsford.
New Drives: We provide unbeatable options for installing driveways in Chelmsford. Our surfacing options include block paving, asphalt, resin-bound, gravel and more.
Patio Construction: Our expert patio installations transform your garden into a luxurious outdoor living space. Our team can install natural stone to porcelain, designed to create a functional and visually stunning patio in Chelmsford.
Driveway and Patio Maintenance: At Vantage Drives and Patios LTD in Chelmsford, we provide maintenance services to keep your outdoor space looking pristine. From cleaning and repair work to lift and relaying of old patios, we've got you covered.
Why Choose Vantage Drives and Patios LTD?
Quality Craftsmanship: Our team of skilled professionals are dedicated to delivering impeccable results that exceed your expectations. From initial design to final installation, we ensure every detail is perfect, with only quality paving products used.
Trusted Installers: We are registered with Checkatrade, Trustatrader and Proven Local.
Competitive Pricing: At Vantage Drives and Patios LTD, we believe in providing top-quality services at fair and competitive prices. We'll work with you to find a solution that fits your budget without compromising quality.
Exceptional Customer Service: We pride ourselves on our unwavering commitment to customer satisfaction. Our friendly and knowledgeable team will guide you through every step of the process, ensuring a seamless and enjoyable experience from start to finish.
What Type Of Driveway Is Best?
Choosing the best type of driveway depends on the area and the traffic the driveway might get. For example, a gravel driveway is considered a very affordable option, probably the best option for a low cost driveway, whilst a block paved driveway would be considered a more expensive option. Yet, it is the best option for a custom-tailored driveway area.
From pure durability, a concrete driveway would be considered the most durable, followed by a resin driveway; however, a concrete driveway cannot be customised (standard concrete, not imprinted concrete which is a separate surface and not as durable).
Concrete Driveways: The original hard type of driveway surface and still fairly popular around houses on paths and similar. Very durable and hard wearing, low cost but very plain finish
Block Paving: This type of driveway is the most popular option the market. Block paving is a concrete product laid on sand and is available in multiple colours and sizes for installation in various patterns. Not quite as hard-wearing as a concrete driveway but considered fairly durable.
Resin Bound: The new kid on the block compared to the other surfacing types. UV resin is mixed with a natural stone chip laid on either a porous concrete base or a permeable tarmac base. Durable and very customisable.
Asphalt / Tarmac: The oldest type of surfacing style is outside of concrete. Tarmac itself is fairly rare for a driveway and most driveways are now laid using stone mastic asphalt (SMA) and limited in customisation with mostly either a black or red finish. Durability is good but does not match block paving or concrete for sustained endurance. Its prone to unravelling if you have an oil leak or diesel leak from your car.
Gravel Stone: The most affordable option for any driveway and has been used for as long as people needed a semi-tough surface to park or drive on. Customisable is limited to the natural stone colours, gold, flint, autumn, granite and other similar natural colours. Over years of use, expect to lose a stone to the wheels, slowly crushing them into dust or the gravel breaking free. It will need to be topped up every five years or so.
Regardless of the surface type, most surfacing styles, paving, concrete, resin or asphalt should have a minimum lifespan of 10 years, provided the work is done to a high standard and some maintenance is carried out yearly.
To get a glimpse of our completed projects for clients in Chelmsford or explore our comprehensive range of services, view our driveway or patio services. Discover how we can enhance your driveway, patio or garden at unbeatable prices. Furthermore, we can provide customised solutions to match your property's aesthetic and ensure a durable, long-lasting driveway that meets your requirements.
We service the Chelmsford region in Essex, including Boreham, Great Leighs, Highwood, West Hanningfield and more.
For more information or to get a free estimate for a new driveway or new patio in Chelmsford, call 01245 526121 or fill out the contact form on this page to schedule a free call back. We look forward to hearing from you.
RECENT WORK
LIST OF SERVICES IN Chelmsford, UK
LOCAL SERVICE AREAS NEAR Chelmsford, UK