Porcelain Patio Installers Essex
Get a free estimate from our installers for constructing a porcelain tiled patio in Essex. We provide options colours, styles and design choices with each patio tailored to our customers.
GET A FREE ESTIMATE >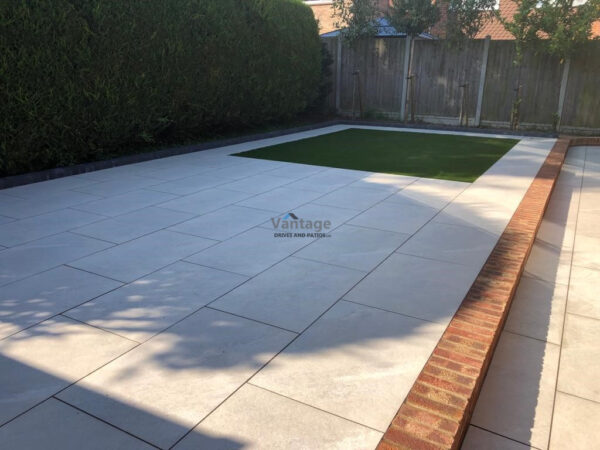 100%
SATISFACTION
GUARANTEED
Porcelain Patios Essex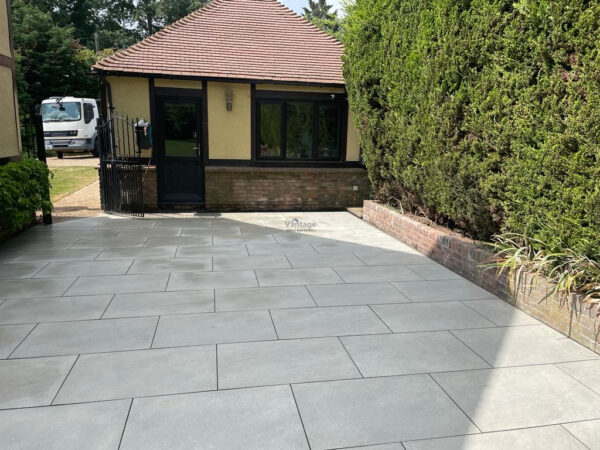 Porcelain Tiling is one of the more popular patios we have installed for customers in Essex. It has established itself as a value product in its durability and aesthetic appearance.
It is suitable for any patio or garden area and can be laid in multiple styles, colours and sizes to guarantee it will suit any property.
Porcelain is a hard-wearing product which means the colours and finish are exceptional at withstanding weather damage or foot traffic.
Each porcelain patio in Essex installed by our porcelain tilers is done to the highest standards, from a new base foundation of Type 1 MOT to a solid concrete base for the new surface.
For each porcelain tile, we apply slurry primer to ensure maximum bonding of the new tile to the surface. We use a resin geo-fix grout to ensure maximum joint flexibility with mould resistance.
Vantage Drives and Patios LTD is dedicated to providing high-quality craftsmanship and exceptional customer service to our Essex customers. From the initial consultation to the final installation, we work closely with our clients to ensure their vision for their patio or garden area is brought to life.
Porcelain tiles are an excellent choice for outdoor spaces as they are durable, non-slip, and require minimal maintenance. During our free consultation, we can provide porcelain tile samples, including different sizes, shapes, and colours, to help you choose a suitable design.
Why Choose Us For Installing Porcelain Patios in Essex?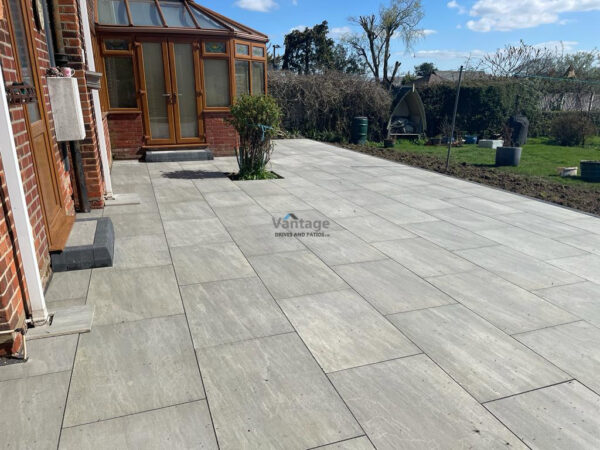 All our porcelain patio work is carried out by our team of installers, with no 3rd party ever used. This ensures a high-quality installation completed to the standards that customers expect of Vantage.
We source all our porcelain from high-quality suppliers such as Marshalls, which ensures a durable and long-lasting finish to the patio. Each patio is built in coordination with our customers to guarantee a result that brings 100% customer satisfaction.
You can learn more about our Essex patio contractors, or for an alternative type of patio, you can view our sandstone patios in Essex to see what other types of patios we can fit.
If you want to install porcelain tiles on your patio or garden area, look no further than Vantage Drives and Patios in Essex.
Why not call our porcelain patio installers on 01245 526121 for a free estimate in Essex? We look forward to hearing from you.