Tarmac Driveways Essex
Get a free estimate from our tarmac contractors in Essex for installing a new asphalt driveway or tarmac driveway. From resurfacing your existing driveway to constructing a new driveway, no job too large or small.
GET A FREE ESTIMATE >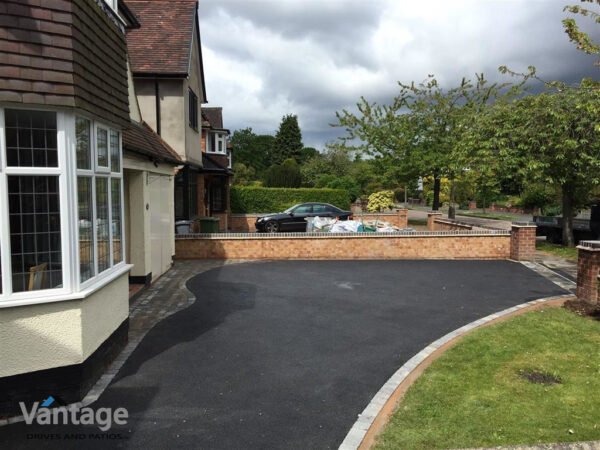 100%
SATISFACTION
GUARANTEED
Tarmac and Asphalt Driveway Installers Essex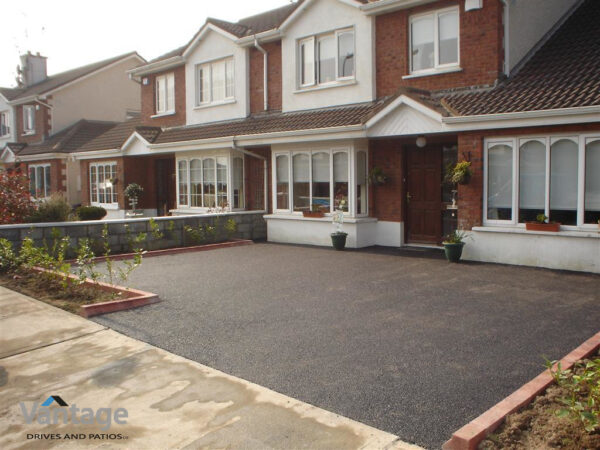 Vantage Drives and Patios are expert tarmac contractors for Essex. We specialise at installing tarmac, tarmac driveways, asphalt and resurfacing your driveway in Essex.
We provide various tarmac choices, including SMA tarmac, wearing courses, 6mm to 18mm asphalt and permeable tarmac. We have solutions that aim to cater for budget and requirements. Our tarmac contractors have many years of experience at laying tarmac on driveways and private laneways.
Tarmac driveways in Essex do not have to be plain or boring looking. It can be laid in various styles, such as red or black tarmac, with paved aprons to create an entry point or combined with other products to create custom features.
Some of the custom features available when we lay tarmac in Essex are paved edgings, granite borders, kerbing around your driveway, drain systems to handle your surface water, double or tripled bordering styles and more.
Surfacing Choices Include:
Tarmac Drives
Asphalt Driveways
Permeable Tarmac
Driveway Aprons
Resurfacing
Tarmac Repairs
Why Choose Us As Your Asphalt Contractor in Essex?
We have been operating in the Essex region for over 20 years, with testimonials and customer recommendations dating back to that period.
Vantage is a registered and insured company which allows us to work on any driveway or patio installation.
Every team member is trained to work safely, efficiently and always provide 100% customer satisfaction.
We are registered with Checkatrade, Proven Local and Trustatrader to provide peace of mind knowing you are getting a legitimate contractor to stand by their work.
For other surfacing choices, we provide block paving installations in Essex and gravel driveway installations in Essex.
To learn more about our asphalt driveway and tarmac installation services for Essex, call our tarmac installers on 01245 526121 or fill out the form on this page to request a free call back.