Landscaping and Gardening Experts for Essex
We provide a landscaping service for all our customer. With a skilled and experienced team capable of transforming all styles of gardens into something beautiful for you to admire all year round. Unbeatable value. We can provide you with a free no obligation quote on replacing your garden area today in Essex.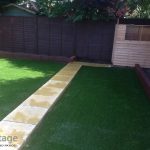 We offer high-spec modern landscape services to suit every budget. From garden paving areas to lawn replacements, hedge removals and winding stone pathways and seating areas. Every project is different so we adapt each project to suit the customer, ensuring your needs are covered and that we exceed your expectations.
When we have finished installing a new project at your home, our landscaping services do not stop. We pride ourselves on our superb aftercare and we enjoy close relationships with all our clients. We provide a monthly return service where we can help our clients who are unable to maintain their new gardens if its required.
We try to cater every project to make sure it suits our client. From complicated and beautiful landscapes that require high maintenance to simplistic gardens that flourish in winter and summer alike with little effort. Depending on your own requirements, if you wish to have a low maintenance solution or if you are a green finger person who likes to dabble around in your garden, we can help.
Give us a call now for a free no obligation visit from us. We will give you a clear and precise breakdown of our services and help you with any ideas you have for your own landscape or garden area. You will love our quality of work.