Quality Tarmac Contractors, New Driveways and Resurfacing
Recommended Tarmac Contractors. Our service area in Essex includes Chelmsford, Epping, Braintree, Rayleigh, Chipping Ongar, Billericay and all the surrounding areas.

Tarmac is still considered one of the most popular finishes today due to its low cost, flexibility and durability for both driveways, pathways and parking area's. On bigger driveways the savings can be significant when compared to paving.
At Vantage Drives and Patios we provide multiple tarmac options including providing both red and black tarmac options to our customers.
Tarmac and Asphalt Experts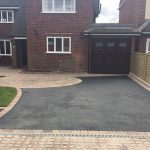 Even though tarmac is the one of the most economical driveway surfacing solutions, it can still be a very attractive option, especially with the extensive array of decorative edgings and features available on the market.
Additionally, savings can be achieved due to the fact that most existing tarmacadam and concrete driveways can be overlaid with a new wearing course, which means a cheaper and faster solution when replacing a driveway.
When looking for a good and reliable tarmac contractor it is very important that you find one with the requisite experience and capabilities in the all areas of the tarmac business.
The tarmac services provided by Vantage Drives and Patios, offers you years of proven experience in tarmac pavement, driveway tarmac, asphalt driveways and tarmac restoration.
Give us a call now for a free no obligation quotation on your driveway requirements. We will provide you with a free no hassle obligation and give you a clear idea on the cost of replacing or extending your driveway using tarmac.